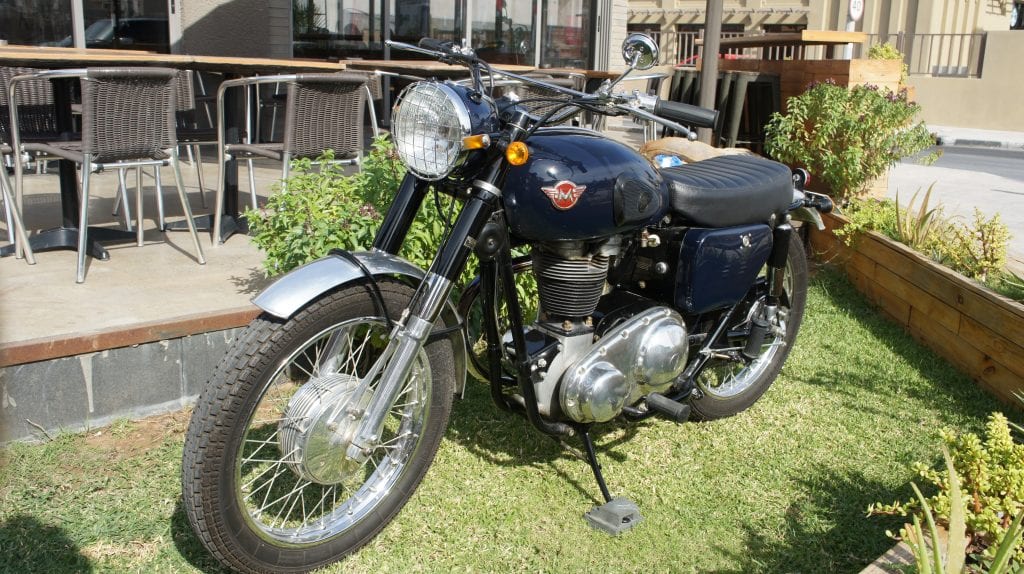 It's quiet on the roads of Dubai at this time of the morning. It's a Friday in November. The weather can't get any better than this. I'm on my way to meet with the owner of an extraordinary machine: a Matchless G3LS from 1961. About a week earlier, I saw the bike parked outside the main entrance of The Collector's Workshop (TCW), during an open-house event at TCW.
Amongst some of the world's most exclusive and legendary cars stood a bike that looked old but shined like it just rolled out of the factory. As a person who prides himself as a motorcycle connoisseur, I had a hard time recognizing this particular bike. The colour, a dark blue/greyish blend, the mirror-like chrome finish, the single-cylinder engine beautifully exposed in the frame, and the clean lines of the bike told me this had to be a British bike.
Moreover, the red emblem on both sides of the tank, showing an M with a wing at each side, made me guess this was a Matchless. I say guess, because this was no ordinary Matchless. This particular Matchless was rocking a cross-braised handlebar, had high aluminium fenders at the front and rear, and a set of knobbly tires that told me this is not a machine I've seen before. I was confused: was this original or did somebody create this?
Before I could speak out my thoughts, a gentleman popped up. The first thing he said was: "This bike used to belong to my grandfather, and then my uncle, until it got passed on to me. I just finished restoring it, and I'm never gonna let it go." In one sentence, three un-asked questions were instantly answered. It's like he could read my mind! Promptly I asked: "Does it run?". A big smile showed on the gentleman's face: "You betcha", he responded.
The key went into the ignition, he swung his leg over, and with one, perfectly executed kick, the bike came to life. It was thumping as if it was brand-new. No hick-ups, no irregular sounds, not what I expected from a near 60-year-old bike. I asked if the bike was original. With the exception of the carb, a very well-tuned Mikuni unit, the bike was original. Well, there is a bit more to it. The bike was restored and modified to an original scrambler. With original I mean: as if it was modified to a scrambler in the 1960s. With age-appropriate, rare, parts from suppliers in the United Kingdom.
I took a few pictures, shot a quick video of the bike start-up, and that was that. I asked the owners phone number to forward him the pictures and video. Then I asked: "Would you mind if we meet sometime next week, grab a coffee and talk about your bike?". "Not a problem, I'd love to!", he responded. "My name is Del by the way, just like the computer brand". And we carried on our own merry way.
Del was already sipping on his cappuccino at Bikers Café when I arrived. 08:30 AM is early on Friday's. Del wanted to avoid traffic as he cruised on his classic Matchless scrambler over Jumeirah Beach Road from one side of the city to the other. He got asked to show his bike at an event that was planned the next day. We shook hands, I ordered an Americano, and before I sat down, Del started telling me how it all begun.
Del strikes me as an easy going, energetic motorcycle aficionado, who isn't shy to tell his story. It all started about 10 years ago. Del was living in Qatar and had just bought his dream bike, a Triumph Bonneville T100. The Bonnie was quickly modified into a café racer, completely built by Del on a parking lot. Parts were imported from Dime City Cycles USA. Bear in mind that, at that time, there were not many café racers in the Gulf.
After a couple of years, Del moved to Dubai, and shipped his Bonnie with him. His hands soon started itching; he needed to modify his bike again. Nothing beats a classic British bike's lines for these kinds of things: café racers, bobbers, brat-style, choppers, scramblers, you name it. Del wanted a change, so he decided to build one of the regions first custom scramblers. Parts had to be imported since there were none available in the UAE. But with determination and a couple of helpful friends, he built his Bonneville into what he called Del's Desert Sled.
The bike featured at the Gulf Bike Week in Media City Dubai at the time and it stole the show. Del got so many positive responses which made him realize that there is a great deal of like-minded people out there. Thus, his brain baby was born: Café Racers Middle East (CRME). An online community by riders, for riders. Bike builders, with a particular interest in café racers and scramblers, and motorcycle enthusiast in Dubai soon found their way to CRME. Before long, the UAE's first Distinguished Gentlemen's Ride (DGR) was hosted by CRME in association with Café Rider Dubai.
The DGR is an annual event, organized in cities all over the world, where men and women, dressed in dapper clothing and riding classic or modified motorcycles, take a ride to raise awareness for prostate cancer. The DGR was first organized in 2013, with 11.000 riders participating across 145 cities. In 2017 the event attracted 94.000 riders across 581 cities over 92 countries.
Although CRME's original idea was to bring people together, Del's intentions were never to host and organize events. "If people want to meet, then they should go ahead and meet each other. Trying to organize an event that caters to everybody's needs is near impossible." He's got a point there, I have to say. Instead, CRME offers a platform on social media were people can talk, share, discuss on anything they like to anybody who feels addressed to. From time to time, bikers who feel the need to meet face to face in an informal manner can join in one of the regular parking lot meets. Usually at Burger Fuels parking lot on Jumeirah Beach Road. No strings attached.
All the time we were talking, the Matchless G3LS was shining in the sun on the sidewalk of the café. A couple walks by. As the wife continuous walking, her husband slows down to take a closer look at Del's bike. Del is clearly enjoying this sight. "It happens all the time", he says with a smile on his face. The man is clearly impressed by the shape and condition of the bike and gives a thumbs up before rushing to his wife.
It was a beautiful sight to observe, almost worth narrating by Sir David Attenborough for broadcasting on National Geographic. "The Matchless was gifted to me by my family when I got married. On pictures it looked alright, but when it arrived, I realized that it needed a lot of work." Del takes another sip of his cappuccino. He continuous: "The first week after the bike was built, I took her for a ride. The brakes locked, and the bike tipped over. The drum brakes were not installed properly, so I got that fixed. The carb was causing trouble as well. The people from Free Spirits Motorcycle advised me to swap the carb out for a Mikuni unit. At first, I was hesitant, but the advice proved to be solid."
The Mikuni carbs work really well compared to the old Amal unit that came with the bike. On top of that, Mikuni carbs run silky smooth when tuned properly, which was the case with Del's Matchless. "Oh, and the clutch cable broke once. Other than that, it was all good" Del added.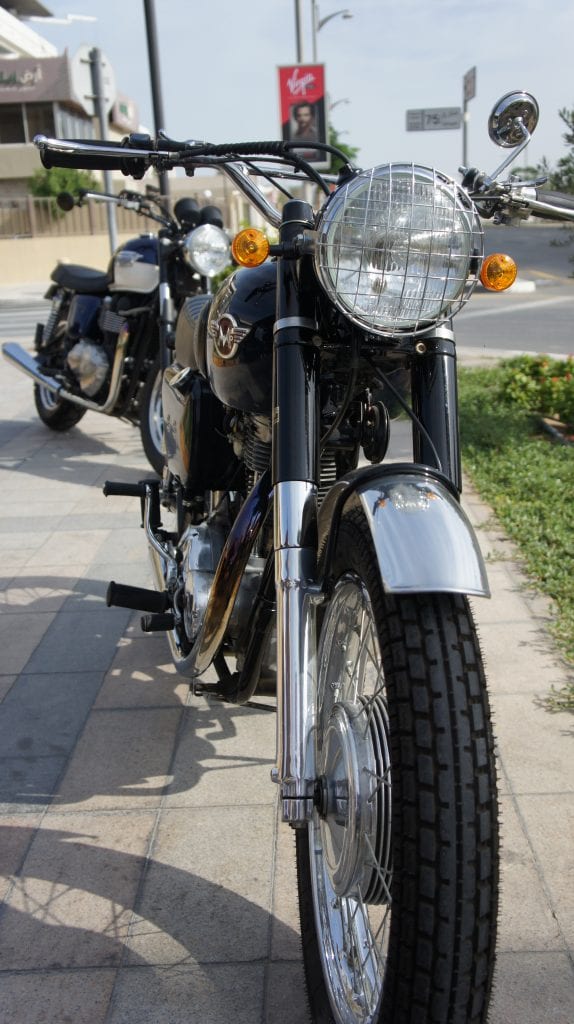 Del sold his Bonnie some time ago because, in his words, the bike was finished. He changed everything he could imagine changing. I asked what's coming next, and surprisingly, a new project is already underway in the form of a 2006 carbed Harley-Davidson Sportster. Although Del is clearly excited about the project, he admits that he isn't sure about what direction he wants to go with the bike.
As far as CRME goes, there are no elaborate plans to change heading with the community. He adds: "I'd like to let it grow naturally. I like the way things or going at the moment; people are reaching out to each other, lending a hand, giving advice, that's all I ever wanted. I don't want to move away from that."