Adventure bike, dual-sport bike, all-road motorcycle: these are only a few of the countless definitions for a specific type of motorcycle or motorcycle riding, with even more, vague and debatable descriptions of what it entails. We're not even getting started about which motorcycle was the first, true adventure bike. Yes, BMW has definitely some right to claim that title with their infamous Dakar winning R80G/S from the 1980s. But that is only if we agree on at least one requirement: it has to be a multi-cylinder motorcycle. So let's do just that.
Fast forward to 2019, and the adventure bike market is booming. Almost every motorcycle manufacturer has at least one adventure bike in their line-up, and with good reason. Everyone who has ever owned an adventure bike will tell you how much they love it. Ask a BMW R1250GS owner and he'll swear that there is nothing like his bike. A Triumph Tiger rider will say that their bike is the ideal motorcycle for everything. It's a discussion that never seems to end, but it's also one riders enjoy having.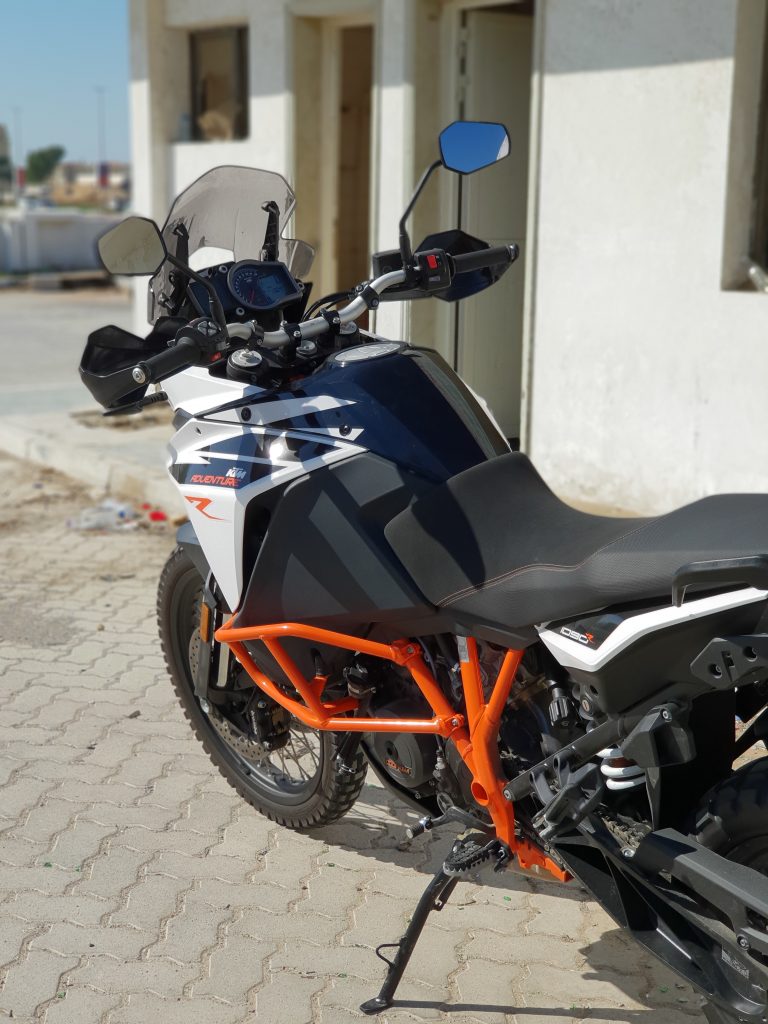 Although the adventure bike market is a bit crowded, there is one manufacturer that is aggressively fighting for the top, and that's KTM. Only 2 years after the launch of their BMW GS-killer, the 1050 Adventure, KTM decided to turn it up a notch by replacing it by the new 1090 Adventure. Shortly after, the 1090 Adventure R followed; a 1090 Adventure that's on off-road steroids with serious, fully adjustable WP suspension with 220 mm of travel at the front and rear for the hardcore stuff, Enduro style 21-inch wheel at the front and 18-inch at the rear (which are tubeless!), steel crash bars, and an extra-strong, die-cast open lattice swingarm. Add a little orange colour to the lightweight trellis frame, et voila: you have a ready-to-race machine. The rest of the bike is identical to the more road-biased 1090 Adventure sans R.
We took the bike out for a long day ride. On the menu for today was the summit of UAE's highest mountain: Jebel Jais. That's almost 2000m above sea-level. The road to the top is steep and twisty. But before we get there, there is a good 150km of straight, boring, five-lane motorway with a 130kph speed limit and speeding cameras every five kilometres that we need to cover. A great opportunity to test the 1090 Adventure R's touring capabilities.
While riding the straight stretch, it felt very comfortable sitting in the saddle of the KTM. The seat is not too soft and not too firm, ideal for long rides. The seat height is tall at 890 mm, it felt almost as tall as a dirt bike, with the difference that a dirt bike is light, and the Adventure R is not. My rear did get a bit sore after 2 hours of riding. Due to the shape of the seat, it was a bit challenging to slide up and down the saddle to ease some of the discomfort.
The handlebars had a comfortable bend for a neutral upright riding position, but were just high enough for riding while standing. The adjustable windscreen did feel a bit flimsy in its operation. However, once set, it did its job beautifully. No buffeting around my helmet, which was pleasant on a long ride.
The cluster gauges were clear, with a mix of digital and analogue meters. When it first came out it looked state-of-the-art, until the 1290 Adventure was launched, with its full-colour TFT display. Now it looks a bit outdated. Still, if you choose function over form, it works just fine. The ABS on this bike can be switched off, or even put in off-road mode which allows for the rear brake to lock. Unfortunately, it doesn't have cornering ABS that's available on other, newer KTM models.
The LC8 engine feels rev-happy. With 125 hp at 8,500 rpm and 109 Nm at 6,500 rpm, in typical KTM fashion, the engine delivers its punch at the top half of the rev range. When we were riding the KTM at a constant speed on the highway, not once did it feel strained. The massive 23-litre fuel tank allowed for a range of 450 km, giving an average fuel range of 20 kpl. Not bad for a bike in this category.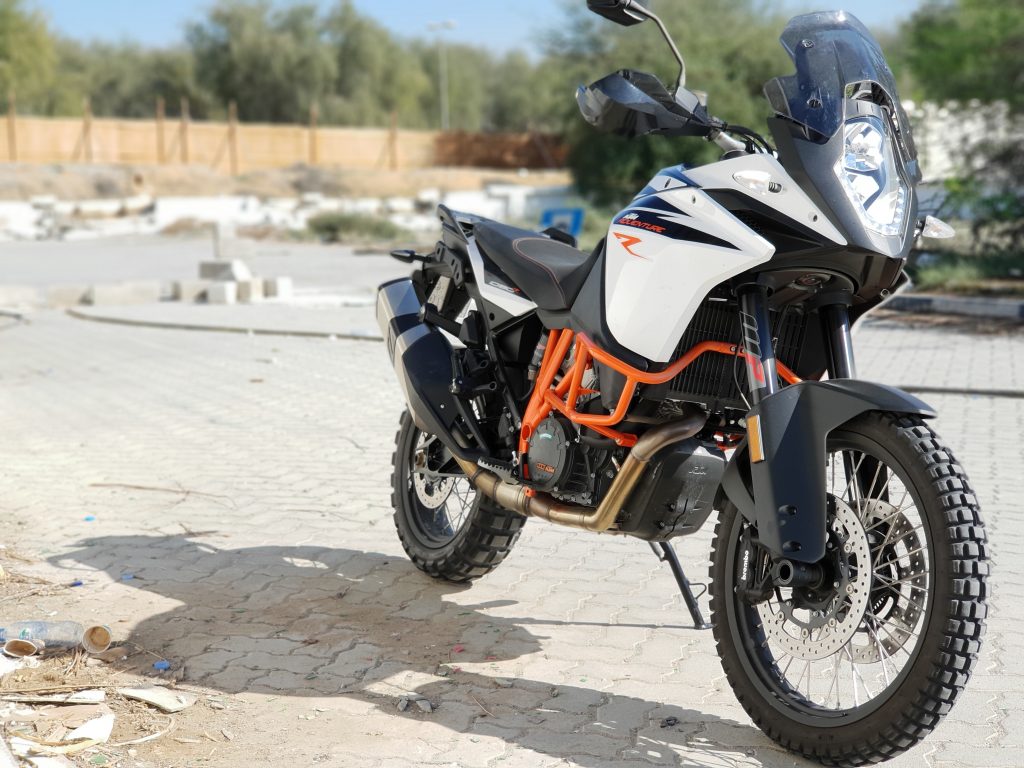 When we reached the foot of Jebel Jais, it was clear that KTM made sure that the bike can handle slow-idle type riding. Not as great as a thumper, but still, impressive enough that's it's worth mentioning. Riding the 1090 Adventure R on a rocky, steep incline was a bit nerve-wracking. I mean, riding a 230+ kg tall metal horse on a 30-degree loose surface slope was not particularly relaxing.
However, by setting the ABS set to off-road, standing on the foot pegs, picking a line and giving it the beans, the Continental TKC-80s did their part and pulled rider and bike to the top of the hill. Going the other way around, and the switchable ABS proved its worth. I expected the bike to lug at slow speeds considering the fact that on paper almost all the power is delivered high in the rev range. But KTM did a good job in tuning the engine right, since we couldn't get the bike to stall once.
On the twisty road to the top of the mountain, the KTM felt surefooted and confident. As we rose up the mountain, so did my confidence. Until the TKC-80s reminded me that they were not designed for my particular riding style. Let me put it like this: the traction control on the KTM 1090 Adventure R works well. And I am grateful it was there when I needed it.
With proper road-biased tires, the KTM is capable of supersport-style riding. Blasting around corners was a hoot, even on the TKCs! Is every KTM a hooligan bike?! Once we reached the top of the mountain, it was clear that although at first I had no desire to ever wanting to own a KTM 1090 Adventure R, this was the adventure bike I didn't know I needed. While enjoying the scenic vistas across the mountain range, I wondered what other places I could conquer with this bike…
The ride back to KTM UAE felt shorter than when we road to the mountain top. I couldn't help but wonder what the heck KTM was thinking. Shortly after the 1090 was launched, they introduced the 1290 Adventure, with a whopping 160 hp, but also +12 kg more than the 1090. When would I ever feel the need for 160 hp on an adventure bike? Not once did the 125 hp of the 1090 feel insufficient. Perhaps, if I was carrying a passenger and additional luggage.
Although the 1090 didn't feel heavy while riding, even at a crawling pace, just the thought of picking that bike up while off-roading was making my heart pressure rise. For a road bike, the 1090 is pretty solid on fire trails and other uneven terrains (note: not hardcore off-road). Would I take it into the desert or loose sand? Not in a million years! And that's OK because that's not what the 1090 Adventure is intended for. Its main purpose is to make any commute feel like an adventure. And to show that a road bike can do more than just stay on-road.
Online rumours suggest that for 2020 the 1090 Adventure will get a major revamp, with most likely a larger displacement engine, creeping even closer to the 1290 Adventure territory, but also making room for the highly-anticipated 790 Adventure (R), that sports the new parallel-twin engine which debuted in the 2018 790 Duke. And that's the problem right there, KTM is competing against itself in a segment that doesn't seem to slow down in its growth.