A custom job is well done when it looks perfectly natural and simple. Hundreds of man-hours have gone into building a bike that people can call "natural" or "simple." Pondering, consulting, chopping, building and rebuilding, and a whole lot of patience results in a perfectly executed custom. If a custom bike looks clean and simple, it has been the centre of attention of the builder for a very, very long time.
We have come across just such a motorcycle in our online meanderings. The bike beneath the stripped-down custom is the Royal Enfield Classic 500 EFI, a model quite popular in the company's current home country: India. French custom house BAAK Motocyclettes took the Classic in for a bit of a makeover. No one would be able to say the finished product was originally an Enfield.
BAAK Motocyclettes was founded in 2012 as a bespoke parts manufacturer for modern classic motorcycles. It deals mostly with Triumph, Moto Guzzi, Royal Enfield, and BMW Motorrad. In fact, the firm's current parts catalogue numbers over 350 unique parts built by six craftsmen in their Lyon, France workshop.
The BAAK team builds a number of custom motorcycles each year, both as personal projects and as platforms to showcase their products. The latest build to roll out of the BAAK workshop is the Royal Enfield Classic 500. The team planned to a take modern Enfield and turn into a classic trials/scrambler motorcycle. Bikes like these used to rip up hillsides in the mid-20th century in England.
And so began the lengthy process of building a custom bike. BAAK Motocyclettes tore down the motorcycle to its parts. Upon inspection, the team realized it could shave off a lot of weight from the build by discarding the stock steel fenders and fuel tank. Custom aluminium alloy parts made in-house replaced these units. The original springer seat was replaced by a new double-tanned leather saddle which is decidedly shorter than before.
BAAK even replaced the handlebar, triple clamp, and handlebar mounts with aluminium alloy substitutes. The stock headlamp gave way to a smaller, lighter unit with a top switch. The team wanted a Scrambler that lived up to its name, so the original wheels were replaced with aluminium ones. A 21-inch front and 19-inch rear combination now bears the weight of the bike. The total weight reduction stands at 42.5kg!
Although the Royal Enfield Classic 500 gets a factory EFI, it seems to run better assisted by an old-school carburettor. Indeed, many 500cc Royal Enfields sold in India almost immediately go through a fueling swap, with riders preferring carbs over fuel injection. So the team installed an Amal carburettor with a pod filter on their custom Classic.
A reinforced aluminium sump guard takes care of the underbelly. A custom trials exhaust system sits on board, complete with a shorty end can. A pair of Hagon performance shock absorbers sits between the subframe and swingarm. A classic round taillamp finishes off the rear of the bike beautifully.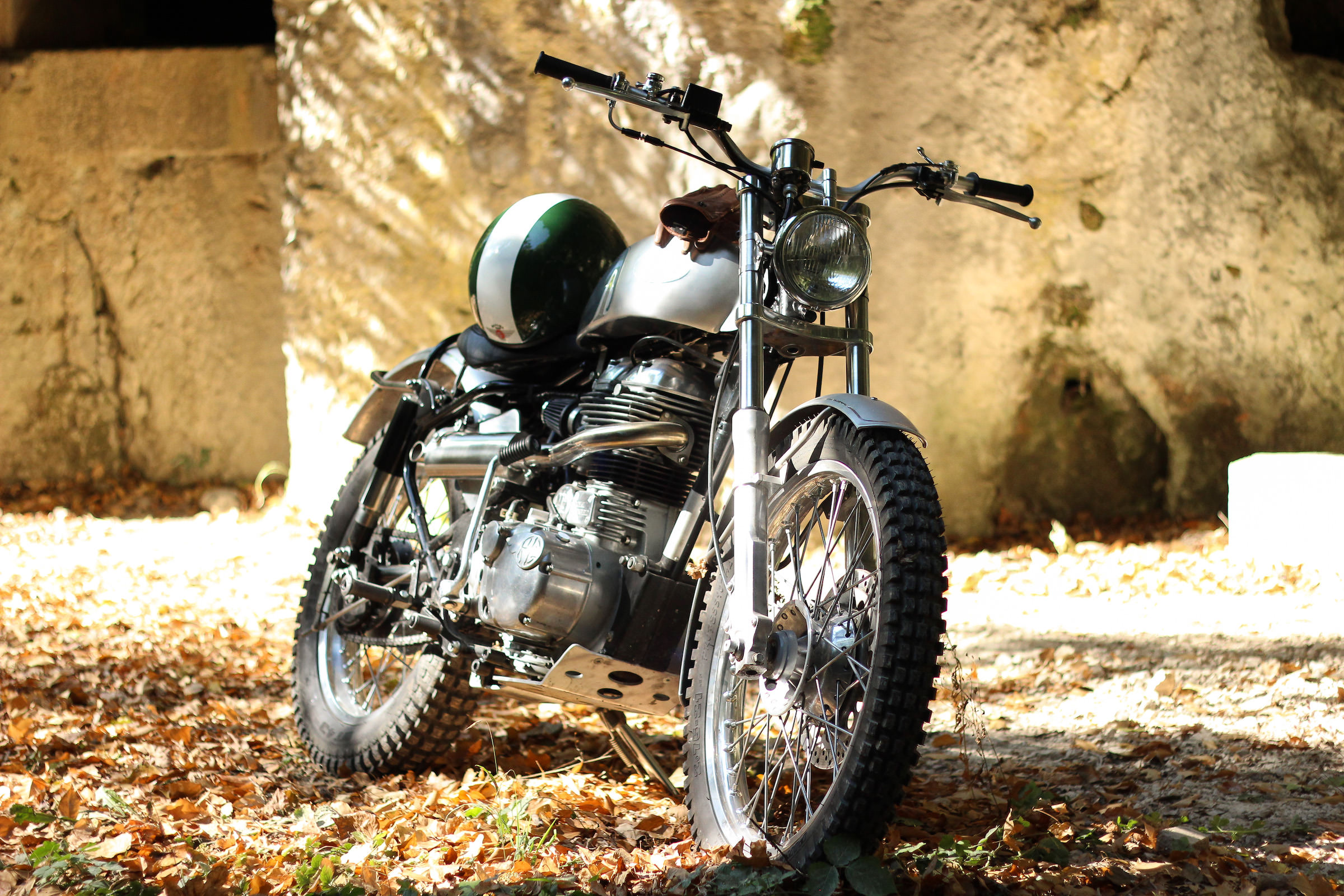 Like we said before, the finished Royal Enfield Scrambler looks deceptively natural and simple. In fact, it looks almost identical to the trials bikes of half a century ago. Only the modern braking system gives it away. We would dare say that this 29hp bike, now almost 43kg lighter should make for a sprightly little number to perform trials stunts on. Coupled with the torquey air-cooled single, wheelies shouldn't be too much trouble to pop. Would you agree?
Image Gallery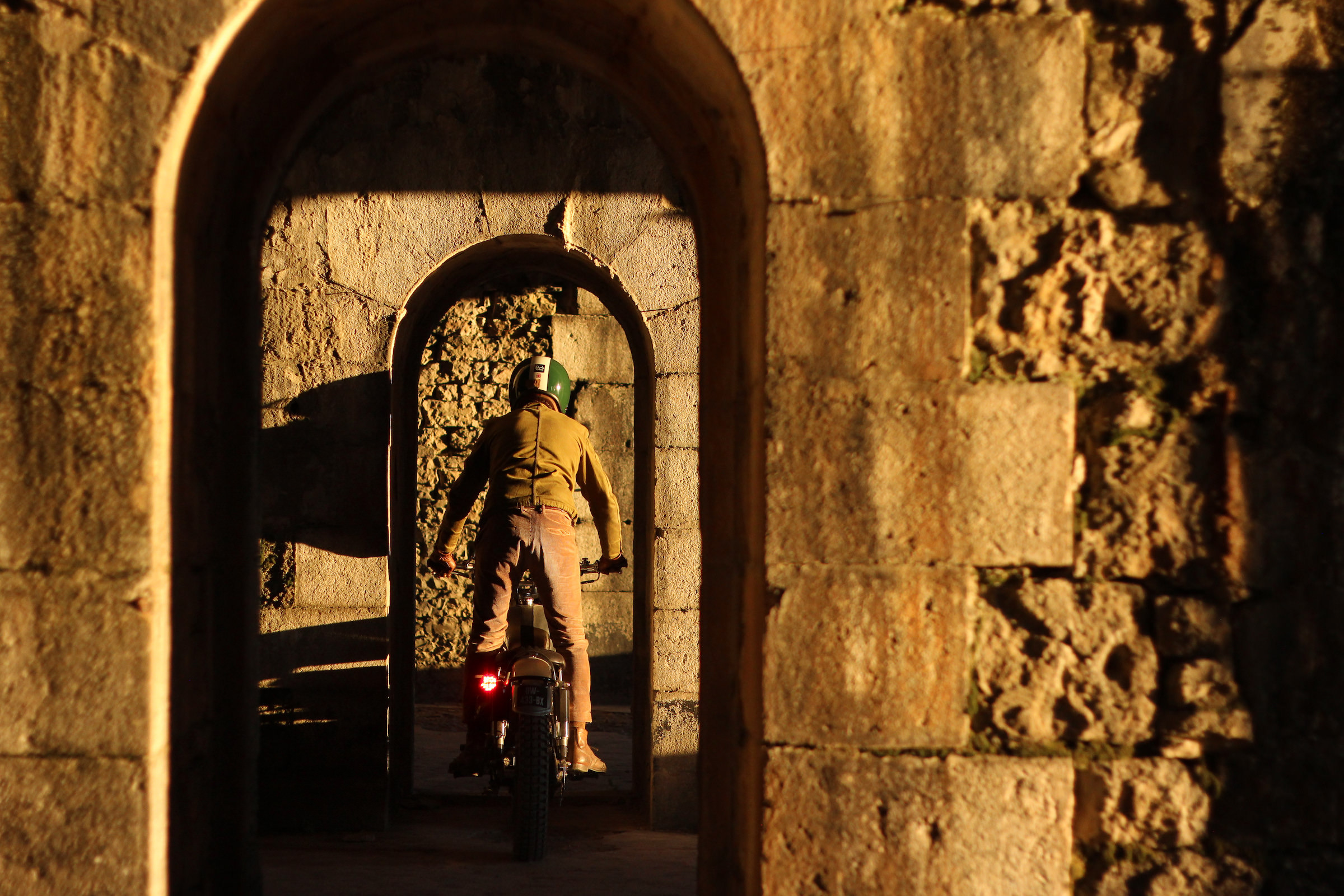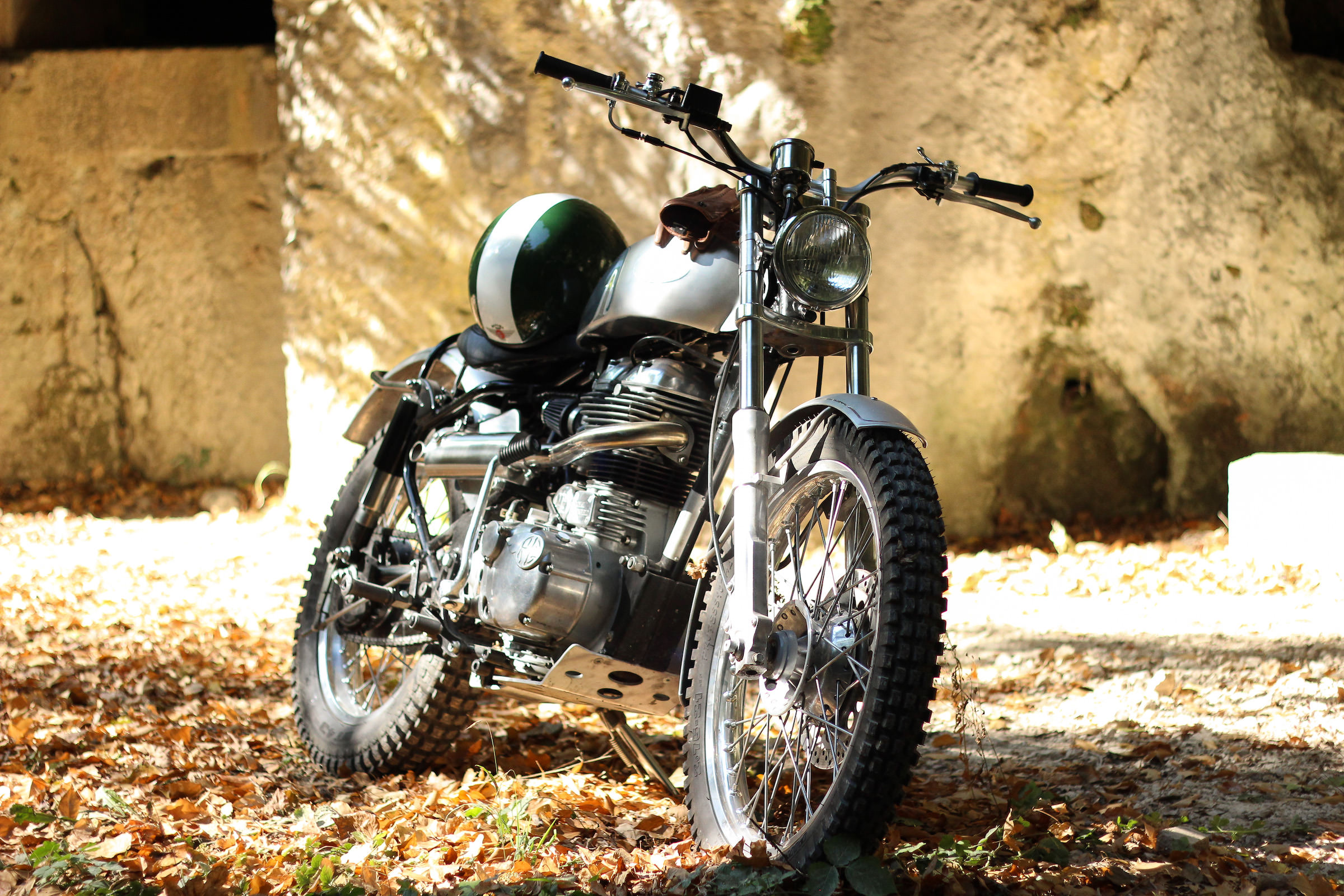 Images Credit: Silodrome